Regular price
Sale price
$17.00
Unit price
per
Sale
Sold out
Don't pick "good" over "good for you". We kept the best parts of this nutty, chocolatey butter but took out the junk like palm oil, dairy, and preservatives.
Details

Most of the world's hazelnuts are grown in Turkey and are used to make Ferrero's Nutella. Italy, Azerbaijan, Chile, and the US round out the Top 5 producers. We found Freddy Guys in Oregon by google'ing and calling the Oregon Hazelnut Commission and asking who grows the tastiest hazelnuts. "Barb" was the resounding answer. So, every few weeks we call Barb and ask for a batch of roasted hazelnuts. So fragrant. So flavorful.

The dark chocolate we use is made by a small co-op in Ecuador started by two brothers. Their business is called Republica Del Cacao and they grow kickass cacao and make kickass chocolate. Love.

The Mexican vanilla we use is from Nielsen-Massey. We ball out on this ingredient. A small bottle runs $175 but 100% changes the result. #worthit

Ingredients

- Oregon Hazelnuts from Freddy's Guys hazelnut orchard in Oregon's wine growing region
- Ecuadorian Dark Chocolate - 71% (Cacao, Cane Sugar, Cocoa Butter)
- Organic Powdered Sugar
- Nielsen-Massey Mexican Vanilla
- Maldon Sea Salt
Learn About Our Partners

- https://freddyguys.com
- https://republicadelcacao.com/pages/about
- https://www.atlasbig.com/en-us/countries-hazelnut-production
View full details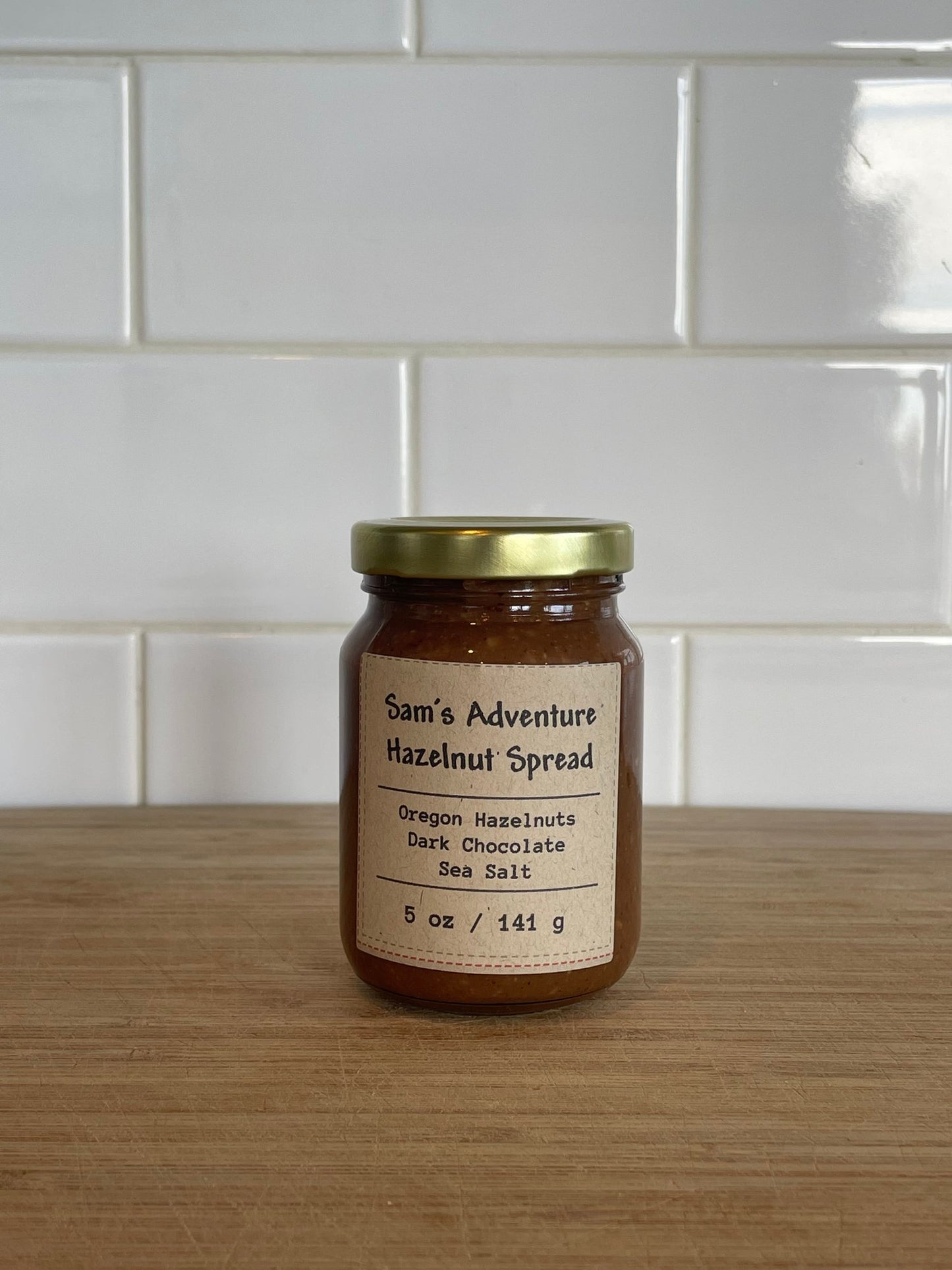 Hazelnut Chocolate Takes Like It Was Made In Heaven
Words cannot do justice for the Hazelnut Chocolate Spread, but I will try. Sam's Hazelnut Chocolate was the first product I bought from Sam's Adventure Snacks. The first spoonful I had of the Hazelnut Chocolate was like being in Heaven. As someone who had rejected the horrible and unhealthy Nutella spread, tasting Sam's Hazelnut Chocolate was a celebratory moment. As a person who loves chocolate, here was a chocolate I good eat knowing it was a healthy alternative to so many chocolate products, that are overladen with sugar. Also the flavor of the Hazelnut Chocolate is incredible, and when I spread it on some bread for my breakfast it turns a humdrum piece of bread into a gourmet event.
Hazelnut is straight fire
It's wrong how good Sam's hazelnut spread tastes. I think about it when I go to sleep. Great with a coffee in the morning, a sandwich midday, or a treat at night.
It doesn't happen often when you stumble upon a new food product that you can't live without. Sam's hazelnut spread is that. I'm a lifer for sure.
My new go-to
This nut butter changed my life! I've always been a nutella person but I've been fully converted to Sam's. I've been looking for healthier, more sustainable alternatives and this is exactly what I needed
High quality, delicious taste, great company
Sam's nut butters are ALL delicious - my favorite is the chocolate hazelnut spread, but I've loved every flavor I've tried so far. You can taste the quality! Ethical, thorough, and good practices — this is a business you want to support.